Rochen's billing system is entirely automated, and will attempt to process any unpaid and/or overdue invoice(s), once per day, at a specific time. The system will also automatically process an unpaid invoice if you update your credit card information.
However, there are times when you may need to process an invoice yourself. For example, if an initial charge attempt was blocked by your card issuer, but they've now resolved the issue, and you'd prefer not to wait for automated billing to process.
To pay your unpaid invoice manually, via your My Rochen customer account, please follow these steps:
1) Under "Account & Billing"  Section on the  My Rochen Dashboard, click on "Invoices"
2) The invoices will either be listed as "paid" or "unpaid" (marked in green and red). Click on the "view" button of the unpaid invoice that you want to pay.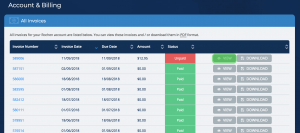 3) Once your unpaid invoice has loaded on your screen, underneath the invoice number, you will see a button that says "Pay Now". Click that button.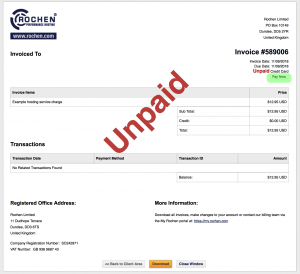 4) The system will now attempt to process your invoice and will take you to a new window or tab where the result will display as either "Paid" or "unpaid". We'll email you a payment confirmation notice with a copy of the paid invoice attached.  If payment is unsuccessful, an email notice will be sent listing possible reasons for the declined charge.
If you encounter any issues please open a billing support ticket in your account at https://my.rochen.com so that we can assist you. Thank you.