This article is applicable to any Premium Web Hosting (PWH) Multiple Sites or Reseller plan.
One of the unique benefits of Rochen's Premium Web Hosting is that you're able to have individual (caged/isolated) cPanel accounts, for each of your websites, within a single hosting plan.
At Rochen we call these individual cPanel accounts "sub-accounts".
Adding a sub-account, to accommodate a new or secondary website, is simple. All of the tools you need can be found in your My Rochen customer account at https://my.rochen.com
Once you're logged in to your account, just follow along with the steps below to add your sub-account:
Locate your hosting plan
In the left side menu click on "Manage Hosting". Then select your hosting plan from the list in the dropdown. If you have just one hosting plan, it will be the only option to choose.


Create Account
In the top right corner of the overview screen for your Primary Account, you will see an option to "Create Account". Click on that.

Domain Name
Enter the domain name for the sub account, and select wether you want to Register the domain name through your Rochen account [link], Transfer the domain name to your Rochen account [link], or continue to manage the domain name outside of Rochen (Manage Externally). At this section you can also opt to add WHOIS privacy protection [link].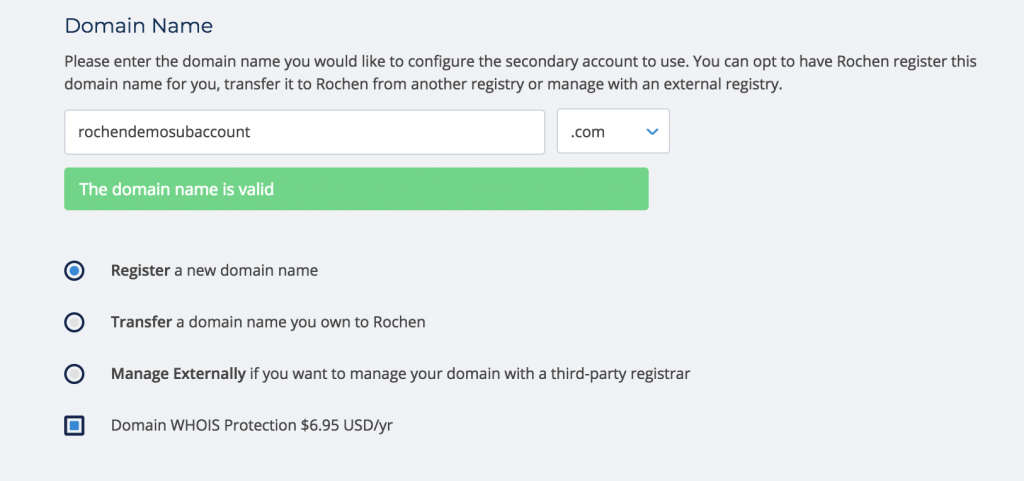 using the domain transfer or register options may incur an annual fee of $13.95 USD | £8.95 GBP | €15.95 EUR, which will be processed when you finalize your sub-account creation. These rates are subject to fluctuate with industry changes.
Region
If you are PWH Reseller plan owner, you can select your preferred datacentre, US or UK, or your sub-account. If you are a PWH Multiple Sites plan owner, your region will default to the same as your primary plan, and you can skip to step #5)
Application
Here you can select whether you'd like to have one of the popular CMS's installed (Drupal, Joomla, or WordPress), or not. By default none will be selected. Just click on any of the CMS logos though if you'd like to add one.
When you select a CMS option, you'll see new options come up giving you the choice to have an existing website transferred over for free, a new CMS instance installed, and possible other CMS-specific options.
If you select the "none" option, you can still opt to have your website transferred over and you can still use that sub-account to host any type of CMS based, or even static/custom, that you choose.
Account Resource Level
Our PWH plans are optimized for performance, and most small to medium sized sites with average traffic, shouldn't require more. However, some websites can benefit from a little extra power than the default server settings provide. To address this, Rochen provides the option of our "Burst" resource pool. Burst provides an extra 1vCPU and 2GB RAM to an individual sub-account for $9.95 USD | £9.95 GBP1 | €11.95 EUR1 per month.

You can add Burst when creating your sub-account, or any time later on. You can also disable it as you see fit, at any time.
SSD Storage Quota
Here you can decide how much storage from your plan's total available amount, you'd like your sub-account to have. The default/minimum storage amount per sub-account is 1GB. You can increase or decrease storage, per sub-account, at any time.
Final Step
Once you have completed all of the above, and have reviewed any incurred costs displayed in the final panel, click "Create Account".
Within 2 to 5 minutes your sub-account will be active, and you'll receive a email notification with log in details. If you chose to install a new CMS instance, a separate email will be sent with its login details.
Review
When your sub-account has been created and is active, you'll see it listed within your hosting plan with its own panel. From that panel you can obtain your FTP path, enable SSH, change or view your cPanel password, and log directly in to your cPanel.

If you have any questions or concerns about the sub-account creation process, please let us know via support ticket at https://my.rochen.com
Need help deleting a sub-account? Please see this article.