In 2015, Rochen migrated our web servers from Apache to LiteSpeed Enterprise Edition.
We took this innovative step because tests showed that LiteSpeed drastically outperforms both Apache and Nginx. This makes LiteSpeed by far the best platform for hosting popular content management systems, such as WordPress, Joomla, Drupal and Magento.

Compared to Apache, LiteSpeed Enterprise Edition can handle five times more hits per second, and generate four times faster page response times while keeping server loads up to fifty times lower.
Get maximum performance from LiteSpeed and WordPress:
If your site is hosted on LiteSpeed, you can speed up your WordPress site even more by installing the LiteSpeed Cache plugin. This plugin connects your WordPress website with LiteCache, which is built in to LiteSpeed Enterprise Edition. LiteCache will automatically cache your web pages on the server side. Your web pages will load significantly faster and with greatly reduced pressure on your web server resources.
Read on to learn how you, as a WordPress site owner, can make the most of Rochen hosting with LiteSpeed in just a few easy steps using the LiteSpeed Cache plugin.
1) In your WordPress dashboard, on the left hand side, click "Plugins" then "Add New".
2) Search for "litespeed":

3) Click "Install Now" for the LiteSpeed Cache plugin, then click "Activate".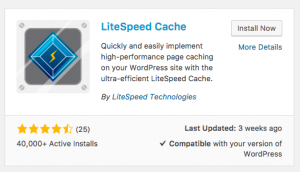 Excellent! You just installed and activated the LiteSpeed Cache plugin. The out-of-the-box settings are sufficient to start efficiently caching your WordPress site and supercharge its performance.
The Main benefits of LiteSpeed Cache for WordPress:
Compatibility
The LiteSpeed Cache plugin is compatible with other popular WordPress plugins, including WooCommerce, Contact Form 7, Yoast SEO, BuddyPress, BBPress and many more. Keep growing your WordPress website and let the LiteSpeed Cache plugin automatically take care of the web pages being built.
Accuracy
When you make a change to one of your WordPress pages, the LiteSpeed Cache plugin will automatically purge the out-of-date version of the page and serve the up-to-date version to your site visitors.
Speed
Statically cached web pages load much faster than the ones dynamically generated on-the-fly. This in turn enhances your site performance and speed.
Better Page Rank
Google officially confirms that among two websites of similar content and SEO quality, they will favour the one which loads faster and accordingly will rank it higher.
Customization
The LiteSpeed Cache plugin can be easily customised for your specific and finer user requirements. For example, you may wish to cache your site desktop and mobile versions separately from each other, or you may want to explicitly exclude certain URLs from being cached.
If you want to dig into the advanced settings for the plugin, you'll find a link in your WordPress admin menu: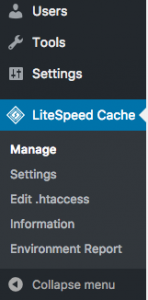 Begin enjoying the benefits of LiteSpeed today when you purchase WordPress hosting from Rochen. The latest version of WordPress can be instantly deployed using our automatic installer during the checkout process. In addition to LiteSpeed, other default hosting features we provide include: PHP 7, HTTP/2, SSD storage, unmetered data transfer, free domain registration, free SSL certificates, and much more!
LiteSpeed Enterprise Edition is also available as an option for our Managed Cloud Server solutions.