For many people, the prospect of handling a WordPress web hosting transfer themselves is daunting or too time-consuming. That's a legitimate concern.
What if you're transferring a Joomla or Drupal site or migrating multiple applications hosted on a custom server stack? What about your essential email accounts; will they be transferred smoothly, along with the WordPress hosting itself?
At Rochen, we offer a managed migration service free for your first ten website transfers on all of our plans. Our experts will professionally transfer your web hosting and email accounts over to your new Rochen plan.
Here's how transferring web hosts works:
The first step of the hosting ordering process will present you with the option to migrate your existing website. Go ahead and click this.

2. When you order your hosting plan we open a support ticket, on your behalf, with our transfer specialists. The ticket, which you can access through your customer account, will request details from you about your website such as whether you are looking to transfer Joomla hosting, a WordPress site or perhaps a Drupal install? We will also request other relevant transfer information from you like your current web host's name and how to access your account with them. If you've got email accounts to migrate, then we will need those details too. Go ahead and reply and if there is something you aren't sure about then please just ask us.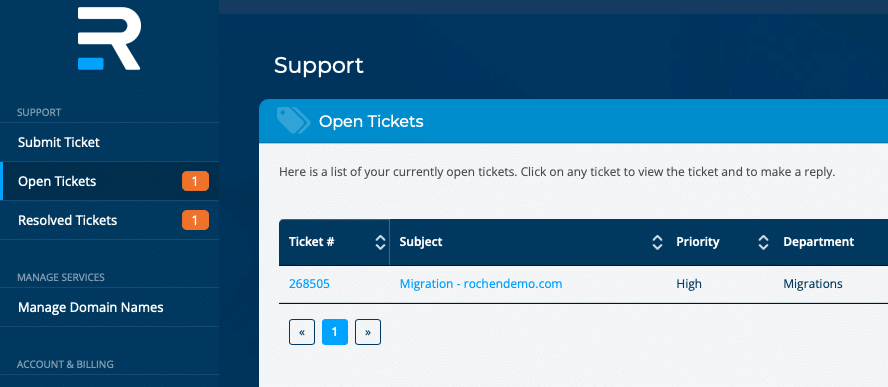 3. Our team will then schedule the site transfer for our next migration window, but if that doesn't work best for you then will be happy to schedule your Joomla or WordPress hosting transfer for a later slot. Then, we will keep you updated throughout the process until completion. The average time for a complete transfer is 24 hours.
Checks and final steps:
4. Now that the transfer of web hosts is complete, test your sites to make sure everything is working as expected by temporarily modifying your hosts file on your local computer. This will load your website from your Rochen web hosting plan before actually pointing or transferring your domain name to Rochen. Alternatively, you can use your temporary access URL. Testing ensures an opportunity to resolve any possible WordPress errors before your site goes live.
5. Finally, when everything is working as expected, update your DNS to point to Rochen. If you transferred your domain name to your Rochen account, along with your hosting, you will update your DNS in the Manage Domain Names section of the My Rochen portal. Otherwise, update your DNS at your existing registrar. Should you need help with any of this, then please just ask.
Summary on how to transfer web hosts to Rochen:
We hope this guide on how to transfer your web hosting to Rochen has been useful. You can of course transfer things manually using third-party tools like Akeeba Site Transfer Wizard for Joomla or Duplicator for WordPress. All things considered, we think you will find it easiest to use our professional web host migration services.
Got any questions after reading this article about transferring a website or any other aspect of Rochen's services? Then please contact us.